Record your songs in full even if you wish to collaborate with other artistes – Eno Barony
She explained that they can release the song as a solo project if they are disappointed along the line.
Eno Barony wrote on Twitter: "Always record a full song even if you wish to collaborate with another artist. When they refuse to do it, you drop it solo.
Collaboration is good cus together we shine brighter..But a Star don't need light from another Star to be seen. ."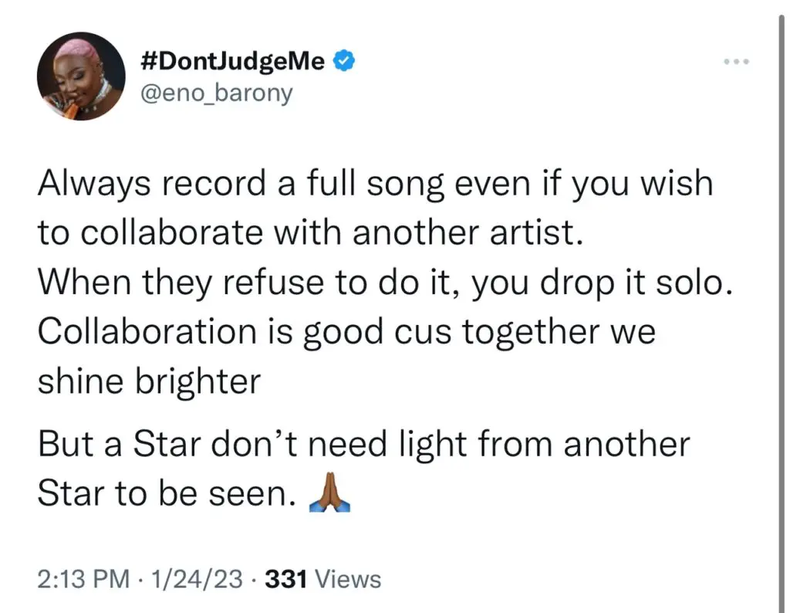 Ghanaian reggae and dancehall artiste Samini, recently revealed how Sarkodie disappointed him in a series of tweets on Monday, January 23, 2023.
He claimed the famous Ghanaian rapper declined to reply to his messages when contacted him to be on his 'Burning' EP.
Samini added that he is not interested in working with Sarkodie again when a fan asked when they will feature on a new song.
On several occasions some artists have criticised their peers for failing them when it comes to collaborations in the Ghanaian entertainment industry for a while.
Eno Barony is a Ghanaian rapper and songwriter. she released her debut single, "Wats Ma Name" and also "Tonga", the remix of the track "Tonga" by Joey B ft Sarkodie in 2014 that lifted her into the limelight and is the first female rapper to hit a million views on YouTube